Architecting the Agile Enterprise with the Agile Cloud Manager
Part 3 of 16: The Organization is a Chain Of Relationships
The first step towards deriving all the benefits of the Agile Cloud Manager involves looking at your entire organization as a chain of relationships.
As you can see from the Figure 1, entitled "The Organization Is A Chain Of Relationships", the work of your organization involves connecting external customers with internal customers.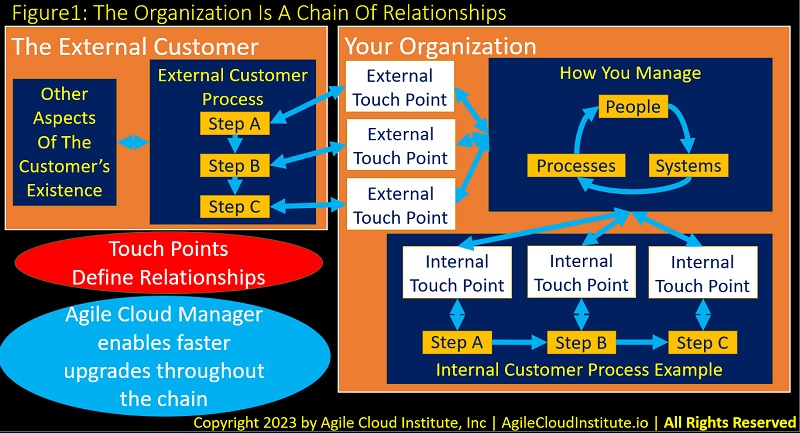 These external and internal customers interact with your organization while performing specific processes that have understandable steps. And each step in each process requires that your organization provide specific touch points through which the work of each step is coordinated.
Each of your organization's touch points is defined in terms of how you manage people, processes, and systems.
Workflows are the way that your organization can define and evolve the ways that you manage people, processes, and systems.
The Agile Cloud Manager makes it a lot easier to deploy upgrades throughout the chain of workflow relationships so that your organization can increase customer-derived value in a more agile way.
The next flowchart, Figure 2, entitled "Workflows Enable The Chain Of Relationships Through Your Organization" adds a "How You Manage Workflows" section to Figure 1 to better illustrate how your organization's workflows pass through each of the integrated IT services which together define your enterprise-level platform.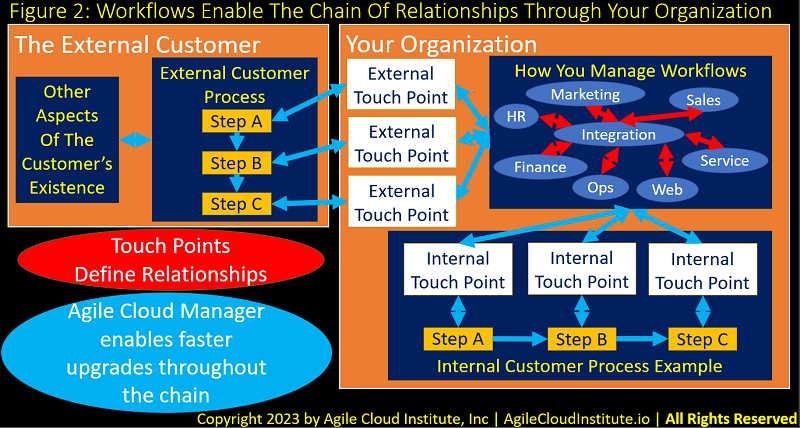 As you can see from the new "How You Manage Workflows" section in the second diagram, your enterprise-level platform is decomposed into sub-platform buckets for major functions such as sales, marketing, service, web, finance, human resources, and the backend fulfillment of value, which here we are referring to as Ops or operations.
back to Site Home
back to Architecture section Home
Back to Part 2 of 16